LEBANON
Lebanon - Syria - Turkey - Iran - Turkmenistan - Uzbekistan - Tajikistan - Kyrgyzstan - China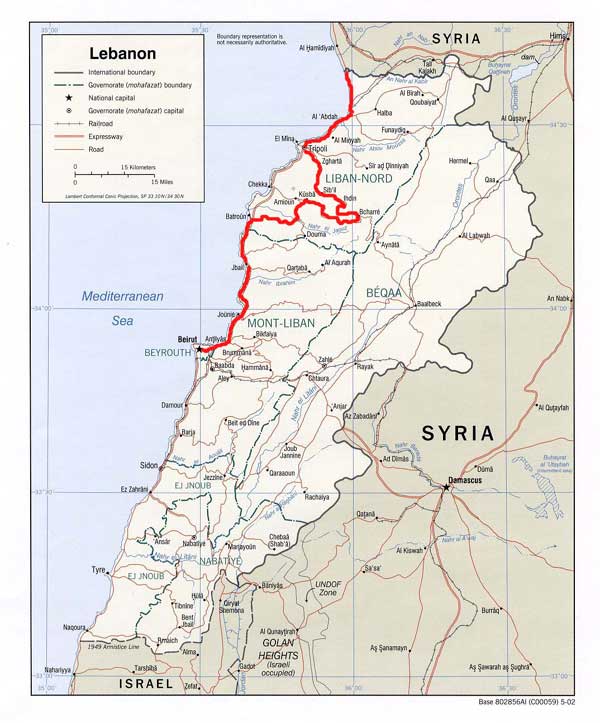 Visa information on Lebanon:

Background information on Lebanon:
Lebanon has made progress toward rebuilding its political institutions since 1991 and the end of the devastating 16-year civil war. Under the Ta'if Accord - the blueprint for national reconciliation - the Lebanese have established a more equitable political system, particularly by giving Muslims a greater say in the political process while institutionalizing sectarian divisions in the government. Since the end of the war, the Lebanese have conducted several successful elections, most of the militias have been weakened or disbanded, and the Lebanese Armed F orces (LA F ) have extended central government authority over about two-thirds of the country. Hizballah , the radical Shi'a party, retains its weapons. Syria maintains about 16,000 troops in Lebanon , based mainly east of Beirut and in the Bekaa Valley . Syria 's troop deployment was legitimized by the Arab League during Lebanon 's civil war and in the Ta'if Accord. Damascus justifies its continued military presence in Lebanon by citing Beirut 's requests and the failure of the Lebanese Government to implement all of the constitutional reforms in the Ta'if Accord. Israel 's withdrawal from its security zone in southern Lebanon in May 2000, however, has emboldened some Lebanese Christians and Druze to demand that Syria withdraw its forces as well.
The Lonely Planet reports:
The border with Israel , down the extreme south and southeast of Lebanon , remains a highly flammable area. Long teetering on the edge of violence, this zone of tension has seen increased fighting between Hezbollah, the Lebanon-based resistance movement, and the Israeli army. Though the militants' aims do not include harassing - or killing - tourists, travellers are nonetheless advised to stay well away from these border areas, in particular the F atima Gate and Shebaa F arms regions, where firings of missiles and mortar rounds are not uncommon.
Political gatherings and demonstrations (many of them anti-USA) are potentially violent hotspots. The heat is also high in the many Palestinian refugee camps dotted around different parts of the country. These are definite no-go zones for the traveller . Most important during the present troubled times is to keep abreast of what's going on in the world and locally. Security situations have a tendency to change with the bat of an eye.
The conflict with Israel has reached bloody-minded status with the seeding of landmines, numbering approximately 13,000, by Lebanese militias, Syrians and Israelis. The land mark warning sign is a rusty red upside-down triangle with 'Al- Ghram ' written in Arabic script, though don't assume that all landmines have been mark ed, let alone found. Hikers should consult locals on the safety of off-road areas and avoid straying from well-used roads. Internally, there are occasional flare-ups with Christian Lebanese activists - one of these led to two bombings in and around Beirut in August, 2001.
Factsheet Lebanon:
Full country name: Republic of Lebanon
Area: 10,452 sq km
Population: 3.5 million
Capital City : Beirut (pop: 1.5 million)
People: Arabs, Palestinians, Kurds, Armenians
Language: Arabic, F rench, English, Armenian
Religion: 60% Muslim, 40% Christian
Government: Republic
Head of State: President Emil Lahoud
Head of Government: Prime Minister Rafiq Hariri
GDP: US$15.8 billion
GDP per capita: US$4,500
Annual Growth: 3%
Inflation: 5%
Major Industries: Agriculture, banking, construction, tourism
Major Trading Partners: Saudi Arabia , EU, UAE , US